Real Clients Review
"I stayed at Richmond Hill Hotel at the end of April, as part of a wedding party from Barbados, Canada and The United States. Simply put, I fell in love with the place over the weekend I was there. The view from the patio of the penthouse where I stayed was spectacular..." more
Please submit your payment
with the PayPal Link Below.

History
The Inn is richly steeped in history. In the 1700's it was the property of the Dewars, members of the proud Scott's clan from which the famous whisky takes its name. Everything has been done to retain the gracious unhurried atmosphere of a bygone age, at the same time availing the guest of all the modern facilities that ensure a refreshingly different holiday.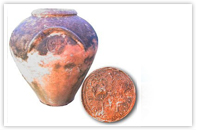 An original terra cotta pot with the royal seal of 'Isabel and Ferdinand' of Spain is found in our patio garden. This jar is an original brought to Jamaica by a Spanish Galleon during the reign of Queen Isabel and King Ferdinand. The jar was used to store oil or water on the ships during their long voyages across the Atlantic.
The walls of the great house are 18" thick of lime stone and molasses. There is also a well under the dining room hand carved from the limestone which is 30 feet deep and 30 feet wide.
There are sitting rooms with antique, hand carved mahogany furniture dating back as early as the 1800's. Come relax in our sitting rooms which are located in the original plantation house and look at some of the artwork hanging on the walls.
Over the years there have been some famous people at the inn. Some of the famous people who have spent time at the inn include Richard Nixon, John Rollins, Roger Moore, Steve McQueen, Dustin Hoffman, Rosie Greer, Paul Newman, Eddy Murphy, Butch Stewart, plus various heads of Governments.
The Inn boasts one of the largest collections of artwork by Barrington Watson, Jamaica's most renowned artist. Click on the picture to the left to view more of his artwork.